A Quick Guide for Owners and Crew Visiting México by Private Vessel
Download Guide: VISITING MEXICO BY PRIVATE BOAT
When arriving at the FIRST PORT OF ENTRY, you must comply with the requirements of the following Mexican Government Agencies.
HEALTH
IMMIGRATION
CUSTOMS
NAVIGATION
In addition you must have the National Park Pass as well as fishing licenses for all on board (if you are to visit any of the parks or have any fishing gear on board).

EVERY VESSEL IN MEXICAN WATERS CARRYING FISHING GEAR MUST OBTAIN A SPORT FISHING LICENSE
Clearing Into México From A Foreing
(Non Mexican) Port.
A vessel must clear-in when entering Mexico at the first official port of entry.
To clear in to Mexico you will need the following documents:
• Passport for all foreigners on board.
• Clear out Statement from the last port of call. If it is a US port, an exemption is made in Mexican Law, however, we highly recommend you file the appropriate "Arrival and Departure Statement" with the CBP before you leave for Mexico. This is proof you did depart from US and comes in handy if you are stopped for inspection.
• Current Vessel Documentation or Registration that proves ownership. (In some cases a recent notarized Bill of Sale and proof that vessel is currently being registered may substitute this document)
• Letter stating all on board are healthy, signed by the captain.
• Crew List, filled out with names of all on board.
• Temporary Import Permit
The clear-in process is as follows:
a. Fill out the Crew List Document.
b. Notify the State health authority preferably 2 hours prior to arrival.
c. Notify Customs, preferably at least 2 hours prior to arrival
d. Notify immigration and get the Crew List stamped and have FMMs "Tourist Card" issued for all passengers.
e. Notify Port Authority (API) and pay port fee (Not all ports).
f. Notify Port Captain's Office. Present the Crew List Document at the Port Captain´s office and pay the Clear-In Fee and have the document stamped.
Marinas located in Ports of Entry like Ensenada B.C or Puerto Chiapas, Chiapas, will notify all authorities and help with the process. In other ports you may wish to contract with a ships agent to do the process.
Clearing into and out of Ports
Within México ("Cabotage")
If you are navigating from one Mexican port to another, all that will be required of you is that you inform the Port Captains office or marina of your arrival or departure by means of an "Aviso" [Notification]. (Article 50 of the Navigation Law and Article 470 of the Navigation Law´s Rules.)
Depending on the port, the Port Captiain´s office, may require a written notification, or simply allow a verbal "Aviso" via VHF, channel 16.
In some ports you must pay a Port Use Fee when arriving.
These fees are paid to the API (The Port Administration) which is a separate entity and not the same as the Port Captain´s office.
Clearing Out Of México To A Foreing Port
To clear out of Mexico you will need the following documents:
• Passport for all foreigners on board. • Immigration FMM forms ("Tourist Cards). • Vessel Documentation or Registration. • Letter stating all on board are healthy, signed by the captain. • Crew List, filled out with names of all on board. • Document that shows proof of competency for recreational boaters or navigation proficiency of the captain. (Example: Captains License, Sate Boating Card or International Certificate for Operators of Pleasure Craft (ICC)). • Temporary Import Permit.
A vessel must clear-out when leaving Mexico at the last official port of exit.
The clear-out of Mexico process is as follows:
a. Complete the Crew List for exiting Mexico ("Despacho" or "Zarpe").
b. The port captain will request a "Carta de No Adeudo" which is a letter stating you don't owe any outstanding bills to a marina or port authority"
c. Notify Immigration by going to the Immigration office to get the Crew List stamped and surrender the FMM forms.
d. Go to the Port Captain's office to pay the Vessel's Check-out fees and have the crew list stamped with the authorization to exit the country of Mexico. In some ports, the Port Captain may require that the Captain or Master present proof of competency for recreational boaters
e. Notify Customs of your departure at least 2 hours prior to departure.
IMPORTANT: Do not skip the clear-out process, since the next time you visit Mexico, your information may show that you never left the country and therefore it may be considered that the vessel never left Mexico for customs purposes. You will also need your last exit paperwork when cancelling or renewing your Temporary Import Permit.
Complying With Immigration
When Not Making Landfall
The Instituto Nacional de Migración – INM – (National Immigration Institute) is the government agency entrusted to oversee foreign individuals visiting Mexico.
For vessels wishing to enter Mexican Waters, and engage in recreational activities, including sport fishing, whale watching, diving and cruising among others, without arriving at a Mexican Port, the INM has created a new PRE-TRAVEL simplified process in order to facilitate the documentation of those individuals wanting to visit Mexican waters by boat.
The process involves three simple steps which must be completed BEFORE entering Mexican waters WITHOUT GOING ASHORE, as outlined within this brochure.
Immigration Requeriments for Individuals & Vessel Which May be Processed Prior
to Cruising in Mexican Territorial
Visit the following Internet portal to apply for entry to Mexico and pay the required fees:
https://www.banjercito.com.mx/registroEmbarques/
Follow the instructions and save the electronic payment receipt. You will need it when you e-mail the passenger list to INM in the next step. Also print out a copy to keep with you on the boat.
The following information must be provided:
Passport number of the person responsible for the vessel
Vessel Documentation (State or Federal Documentation).
A $594 Mexican Pesos fee per each visiting foreigner as required by the Federal Fee Act (Ley Federal de Derechos), Article 8, Section I. The fee must be paid using a credit card, and we suggest you make a payment for each person INDIVIDUALLY. (Group payments are possible but the receipt will not have all the names on it). (To pay one person at a time, when asked how many persons on board the vessel, just enter 1, that is the number of fishing licenses that will be billed)
Download and complete the spreadsheet with the information of the vessel and passengers from:
http://www.inm.gob.mx/gobmx/word/index.php/instructions-for-the-shipping-of-electronic-passenger-lists
Here you will find the following:
A Sample Form (spreadsheet) for submission of a list of maritime passengers and crew members. Delete the sample information and insert your passenger list. Save it to your computer following the instructions on the web page including how to name the file correctly.
A guide for filling the Form for the submission of a list of maritime passengers and crew members.
An e-mail Directory/List of INM Ports addresses for submission of lists of maritime passengers and crew members.
E-mail the completed spreadsheet to INM and copy of your receipt(s) (See STEP TWO above, 3rd bullet, on how to find the correct e-mail address). As an example, if you are leaving from Southern California you should send the e-mail to the Ensenada INM Office at:
Once the visitor´s information outlined above is sent to INM, they will e-mail you back the entry authorization (or denial) to the individuals intending to enter Mexico's waters onboard the given vessel. The document must be kept aboard the vessel at all times along with the receipt of payment.
The authorizing e-mail will also contain INM's permit to enter as a Visitor Without Permission to Perform Activities for Profit (i.e. work for income/profit).
The length of the stay will be the amount of time requested by the applicant, but shall not exceed 180 days, and cannot be used for multiple entries and departures. (We suggest you petition the 180 days).
A copy of your information will be sent to the Secretary of the Navy (MARINA) and to the Port Captain.

IMMIGRATION REQUIREMENTS WHICH MUST BE PROCESSED AT THE FIRST PORT OF ENTRY IN MEXICO BY INDIVIDUALS CRUISING MEXICAN TERRITORIAL WATERS.
Passport/Visa
ALL foreigners traveling to Mexico, including U.S. citizens, are required to carry a valid and current passport to enter Mexico.
Non-Mexicans from certain countries may also require a Visa. Contact a Mexican Consulate for a list of these countries or: https://consulmex.sre.gob.mx/saltlakecity/index.php/avisos/83-bya3
When arriving at your first Mexican port of entry you will need to check-in at the local immigration office and each crew member must present his/her passport and will need to fill out an entry permit, now called an FMM and pay $594.00 Mexican Pesos per person at the bank. (The immigration officials will fill out the form you are to pay with at the bank).
The length of the stay will be the amount of time requested by the applicant, but shall not exceed 180 days, and cannot be used for multiple entries and departures (We suggest you request the full 180 days).
A Passport Book allows a foreigner to travel to/from Mexico by any means of transportation.
A US Passport Card allows U.S. Citizens to enter Mexico territorial waters by boat e.g. on a sports fishing trip, and then return to the United states. WITHOUT going ashore in Mexico.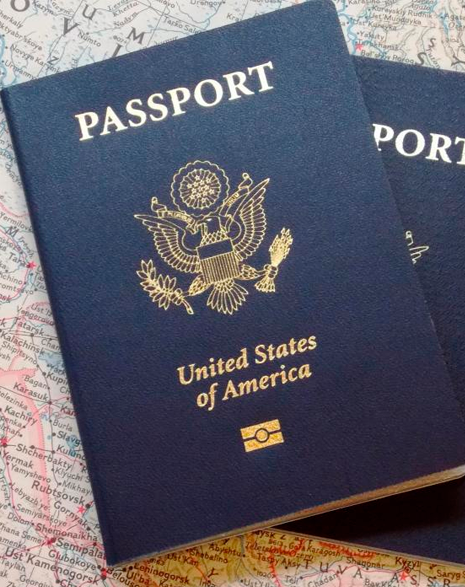 FMM — FORMA MIGRATORIA MULTIPLE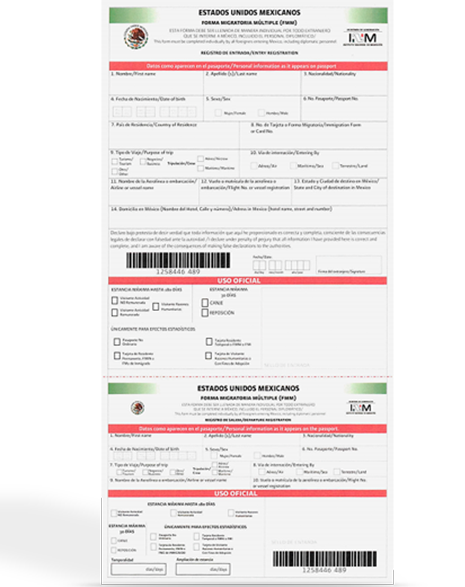 The Forma Migratoria Multiple, FMM, "Multiple Immigration Form" or "Tourist Card" is the form you must have on you at all times when traveling in Mexico by boat, or any other means, once you have gone ashore for the first time. Each person must pay for, fill out and and register his FMM form upon arrival at the Immigration office of the first port of entry.
Immigration officials will keep the top part of the form and you will keep the bottom part, which is your proof that you are in the country legally.
You keep this portion. DO NOT LOOSE OR MISPLACE THIS DOCUMENT!
You will need to surrender it upon leaving the country.
All foreigners entering Mexico by land with a trailerable vessel are required to obtain an FMM at the first port of entry, e.g. TIJUANA, TECATE, MEXICALI, NOGALES, etc. If boarded by Mexican Authorities, you will be asked to show proof of a valid FMM.
For additional information visit:
https://www.gob.mx/inm/acciones-y-programas/sport-fishing-and-nautical-tourism
VESSEL DOCUMENTATION REQUIREMENTS
Every vessel entering Mexico must carry ORIGINAL current Vessel Documentation or Registration that proves ownership; this means Federally Documented vessels will need to present a USCG Certificate of Documentation and undocumented vessels will need to have a valid State Registration. Foreign flag vessels from Canada, Australia, United Kingdom, British Virgin Islands, Cayman Islands, Republic of Marshall Islands, Japan, etc., will require a current.
Certificate of Registry
All vessels registered under a Corporation or LLC or when the legal owner is not on board, are required to have an original notarized letter onboard authorizing the Master or Representative to operate the vessel. Boat Captain or Master must present proof of competency for recreational boaters (example: Captains License, State Boating Card or International Certificate for Operators of Pleasure Craft (ICC)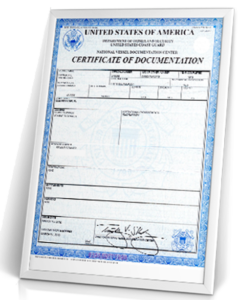 TEMPORARY IMPORT PERMIT FOR VESSELS (TIP)
All vessels larger than 4.5m (15ft) are required to have a Temporary Import Permit (TIP) when in Mexico.
The ORIGINAL TIP must be on board the vessel at all times.
If you have a tender/dinghy (less than 4.5 m), Jet Ski, motorcycle or vehicle onboard the vessel you would need to include them on the mobile accessories list so it can be included on the TIP.
Any tender or dinghy bigger than 4.5m will need to have a separate TIP for it's own.
A TIP may be obtained from the following sources:
a. Online prior to your departure for Mexico. Apply between 60 and seven days before you depart at: https://www.banjercito.com.mx/registroVehiculos/
b. At the first Mexican official port of entry in Mexico, available at any Banjercito CIITEV office at one of the following Mexican ports of entry, as well as border entry ports:
Acapulco, Coatzacualcos, Ensenada, Guaymas, La Paz, Lazaro Cardenas, Manzanillo, Mazatlan, Puerto Juarez, Puerto Vallarta, Salina Cruz, Tampico and Veracruz.
c. You may also acquire the TIP at the following Mexican Consulates:
CALIFORNIA: Los Angeles, Sacramento and San Bernardino.
ARIZONA: Phoenix
TEXAS: Austin, Dallas, Houston
COLORADO: Denver.
ILLINOIS: Chicago.
NEW MEXICO: Albuquerque
If the vessel does not have a Temporary Import Permit "TIP" on board, or fails to exit Mexico prior to it's expiration, the vessel will be considered to be in Mexican territory illegally and may be subject to fines and/or confiscation by Customs Authorities.
Temporarily Imported Vessels cannot be sold in Mexico and chartering requires Mexican permits.
VALIDITY OF A TIP
A TIP is valid for a period of 10 years from the issue date, allowing for multiple entries during this period.
A new Temporary Import Permit – TIP- may be requested for an additional 10 years for the same vessel as long as it is processed within the 90 day period prior to the permit's expiration date, This can be done by internet, through banjercito.com.mx, or at any of the CIITEV centers, without the need for the vessel's inspection, plus, there is no need to submit Exit papers if renewing the TIP within 90 prior to the TIP's expiration date.
CANCELLATION OF A TIP
If the vessel will be leaving Mexico BY LAND:
Vessel must be made available for inspection to Customs Officials at the Port of Entry chosen to exit Mexico. The authorized individual must be present at the same time and must show the original Import Permit (TIP) and the Mobil Accessory List.
If the vessel will be leaving Mexico BY SEA on its own bottom:
Owner may cancel the TIP by surrendering the original and a copy of the following documents:
• Port Captain clearance
• Mobil Accessory List
• Original TIP (Temporary Import Permit including sticker if it is available)
There is no need to present the vessel for inspection to cancel the TIP when she leaves by sea.
If vessel will be leaving Mexico AS CARGO on a Yacht Transport Ship:
The TIP may be cancelled at the Banjercito office. The cargo manifest, indicating vessels characteristics (name, registration or HIN) must be submitted as proof of departure. There is no need to present the vessel for inspection to cancel the TIP when she leaves by sea as cargo on a transport ship.
NOTE:
The cancelation may be done by mail, by sending the above documents via registered mail to the Banjercito Central Offices or to a CIITEV office at any port of entry. Mexican Customs Officials will also accept the «Vessel Entrance or Clearance Statement» issued by U.S. Customs and Border Protection as proof that a vessel left Mexico and will facilitate the cancellation of the Temporary Import Permit, on arrival in the future with an expired TIP or if vessel has changed ownership.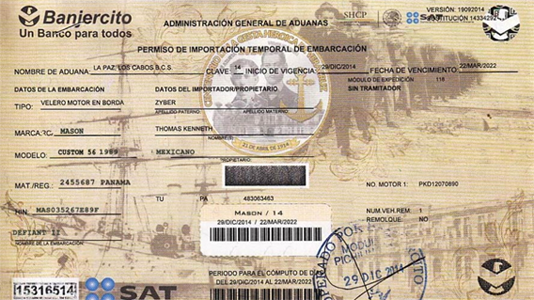 MEXICAN GOVERNMENT OFFICES AND AGENCIES YOU MAY ENCOUTER
SEMAR: Secretaría de Marina, The Mexican Navy, is one of the two independent armed forces of Mexico. The naval forces are called Marina Armada de México. The (SEMAR) includes both the NAVAL and CIVIL navigation services, with the offices of the Port Captain under NAVAL authority.
The Maritime Authorities (Port Captain) work under the direction of SEMAR, to oversee compliance of the Mexican Maritime Laws and regulations as well as those issued by the IMO, in order to guarantee protected, efficient and safe maritime passages.
BANJERCITO: Provides Banking and Credit services to members of the Army, Air Force and Navy, and the General Public, and oversees the online services allowing payments for the Immigration fees and temporary import of vehicles and boats.
INSTITUTO NACIONAL DE MIGRACION: An arm of the Mexican Secretariat of the Interior, which controls and supervises immigration in Mexico.
SECRETARIA DE HACIENDA Y CREDITO PUBLICO: The Mexican tax authority responsible for the supervision for compliance of tax and customs legislation.
CONAPESCA: (Fishery commission) is a decentralized body of SADER (Ministry of Food and Rural development), in charge of promoting the competitive and sustainable development of the fishing and aquaculture sector of the country.
CONANP: (National Parks Commission) is the institution responsible for safeguarding the conservation areas with the greatest biodiversity in Mexico.
SEARCH AND RESCUE (SAR) OF THE MEXICAN NAVY
WHAT TO DO IN CASE OF EMERGENCY
If the boat is in a serious and imminent danger situation, you must send the distress signal: Mayday, Mayday, Mayday through VHF channel 16 or 2.182 KHz medium wave frequency. It is mandatory to have a VHF radio in minor boats. In order to receive a quick response, it is essential to have a 406 MHz Emergency Position Indicating Radio Beacon station (EPIRB) on board.
WHO SHOULD YOU CALL IN CASE OF A MARITIME EMERGENCY?
National Coordination center for Maritime SAR (NMRCC)
Telephone numbers:
Mexico City and metropolitan area,
52 (55) 56-24-60-04
Rest of the country,
01 800 MARINA 1 (01 800 627-4621)
SENSAR-PEÑASCO
52 (638) 383 1691
Email:cc2_emga@semar.gob.mx
sarmarina@semar.gob.mx

VISITING THE NATIONAL PARKS OF THE BAJA CALIFORNIA PENINSULA AND POINTS SOUTH
If you plan to visit any of these awe-inspiring sites, you must obtain a "Conservation Passport" prior to arrival at any of the marine or land based parks. The easiest way to obtain a Conservation Passport is by downloading the app to your smart phone – search for Pasaporte de la Conservacion and purchase the Passport; the cost at this writing is $383 MXN per person; free for children six and under and persons with disabilities.
View & download Maps of the Protected Natural Areas in Mexico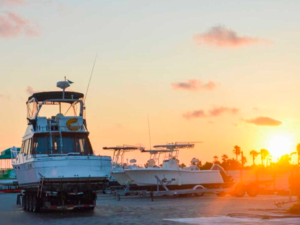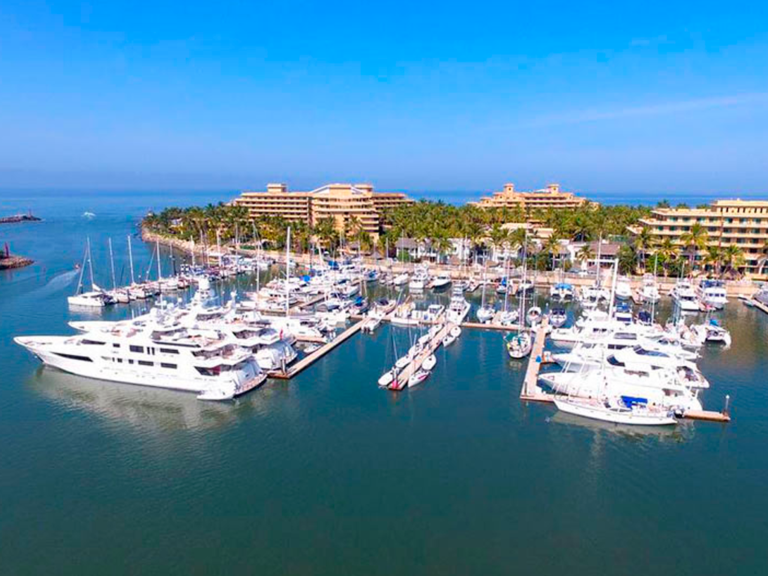 Once you have purchased the passport simply take a screen shot; the digital shot or orginal must be available for inspection at any time during your visit at any of the sites.
The passport may also be obtained from any ANP office or online https://pasaportedelaconservacion. conanp.gob.mx
The passport is valid for one year from the date of purchase.
The proceeds from the Passport help in the preservation of these unique but fragile natural environments, as well as for the protection and economic growth of local communities. During your visit to any of these magical sites, we ask you to follow the directions and rules designed to enhance and preserve these treasures.
The Baja California Peninsula National Parks (NPA) include:
Guadalupe Island, Pacific Islands of Baja California (Coronados, Todos Santos, San Martin, Cedros, Benitos, Magdalena), Revillagigedo, Valle de los Cirios, Vizcaino, Cabo San Lucas, Cabo Pulmo, Espiritu Santo, Loreto, Bahia de los Angeles, among others in Southern Mexico.
Visit https://www.gob.mx/conanp
Anybody interested in observing marine wild life at close range, such as whales, white sharks, whale sharks, etc., must contract an authorized and licensed service provider.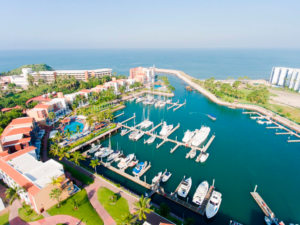 Every vessel in Mexican waters carrying fishing gear, must obtain a sports fishing license for each person on board the vessel. A sports license is not required for fishing from shore.
PURCHASE YOUR FISHING LICENSE ONLINE HERE: https://www.sportfishingbcs.gob.mx/
Anglers in ocean waters may use as many fishing rods/reels at the same time as desired, however there are catch limits that must observed.
A sportfishing license allows the angler to catch fish only; shellfish, crustaceans turtles, marine mammals, reptiles and amphibians are strictly prohibited; the only exception being squid. The totoaba, a fish, is protected by federal law and must not be fished.
For bottom fishing, only up to four hooks may be used in a vertical line. Electric powered reels may only be used by persons with disabilities, and a special permit must be obtained from the authorities.
CATCH LIMITS:
• In ocean waters and estuaries, up to TEN FISH, with a maximum of five fish of the same species.
• Marlin, Sailfish, Swordfish, Shark, and Pescada (Sterolepis Gigas), the limit is ONE per angler, which will count as five of the same species.
• Dorado, Rooster Fish or Sabalo, Berry (Mycteroperca Jordani) or Bluefin Tuna (Thunnus Orientalis), the limit is TWO per angler, which will count as five of the same species.
• Squid. The limit is FIVE per angler per day.
• Underwater fishing. Only when free diving (no tank or other underwater breathing mechanism may be used). The harpoon or spear gun maybe equipped with rubber band, coil or pneumatic firing mechanism.
• Catch and Release. There is no limit as long as the catch is released in good condition for survival.
• Three days or longer: While out at sea, fishing from a vessel, the accumulated maximum number of catches per angler will be three times the daily limit as mentioned above.
No commercial fishing is allowed without the proper permits and the catch from Sport Fishing may not be sold.
PURCHASE YOUR FISHING LICENSE ONLINE: https://www.sportfishingbcs.gob.mx/
Fonmar's website www.sportfishingbcs.gob.mx is a secure and easy way to obtain your permit to fish in all of Mexico´s waters. All you need to do is enter your name(s), license duration and start date and you will be directed to a secure banking site to add your credit card information. Once the transaction is complete you'll receive an email confirmation and receipt, and a popup with the link to download and print your permits. Be sure to copy the pdf file to your computer.
FIRE ARMS IN MEXICO
There are severe penalties INCLUDING INCARCERATION for transporting or possessing OF ANY FIREARM / AMMUNITION in Mexico without the proper documentation. You must contact a Mexican Consulate before attempting to transport weapons into Mexico. PLEASE TAKE HEED.
A website with more information is available in English: